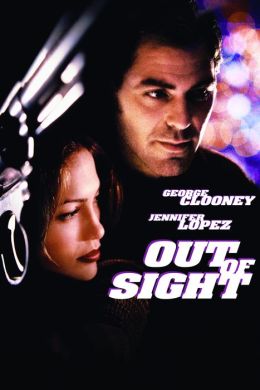 This film is based on a novel by Elmore Leonard.

Jack Foley has spent his adult life as a bank robber and he's been in prison three times.

His pal Buddy Bragg helps him escape from his last incarceration but there is a snag. They are forced to kidnap a female US Marshal during the process.

Jack rides in the trunk with Karen Sisco and they are sort of kind of attracted to each other? She's worried Jack will get so much dirt on her favorite outfit that it will be unwearable.

Jack lets Karen go, Buddy and Jack head for a final big scam in Detroit.
I liked seeing Lopez and Clooney in their younger days.

Lopez is able do her job as a Marshal but she sees some fun coming along the way too. Clooney can be very romantic but he's really a smart loser with bank robbing and this one big job as his only ways to make money.

There doesn't seem any way to keep him out of prison with this type of life even though he doesn't want to go back.

3 ½* (I liked this movie)
123 min, Comedy directed by Steven Soderbergh with George Clooney, Jennifer Lopez, Ving Rhames, Jim Robinson, Mike Malone, Don Cheadle, Donna Frenzel, Catherine Keener, Manny Suarez, Dennis Farina, Steve Zahn.
Note:

Imdb 7.1 out of 10, 93% critic 75% audience on Rotten Tomatoes, Roger Ebert 3 ½*.
Special Note:

This film was shot on location in Florida, Louisiana and Michigan.

There are cameo performances by Michael Keaton and Samuel L. Jackson.

There were four other adapt
ations of

Leonard novels, GetShorty, Touch and Jackie Brown.