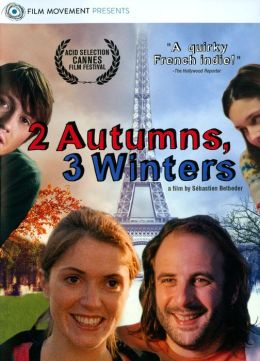 The title of this film in French is 2 automnes 3 hivers.

Arman is 33 years old, he knows he needs to start a physical exercise program and he starts off running in the park.

He literally bumps into Amelie on the jogging path.

He wants to see her again and he goes to the park every day for the next couple of weeks but she come back to the park.

After he's decided he will never see her again, he's out one evening and he hears a woman scream.

He decides he will investigate what is going on and he learns two muggers are holding Amelie.

The men have robbed the man she was walking with and let him go. They have also robbed her but they have other plans for her.

Arman knows he must do something, one of the men has a knife and Arman receives a stab wound to his stomach.

Amelie visits him in the hospital and they become a couple.
The director of this film has separated the story by using 40 vignette-like segments.

Each has a title and some are only one or two minutes in length.

There is also some strangeness with a character with apparent telepathic abilities that seems like moments of a very bad television program?

This ended as I expected but it's so down for the last portion of the movie!!

I can't imagine how it could be much more of a downer except if the ending was different!

2 ½* (This movie is so-so)
91 min, Comedy directed by Sebastien Betbeder with Vincent Macaigne, Maud Wyler, Bastien Bouillon, Thomas Blanchard, Pauline Etienne.
Note:

Imdb 6.7 out of 10, 78% critic 47% audience on Rotten Tomatoes, Roger Ebert 3 ½*.
Special Note: I don't know what the alternatives could be but I hate Arman's hair!!