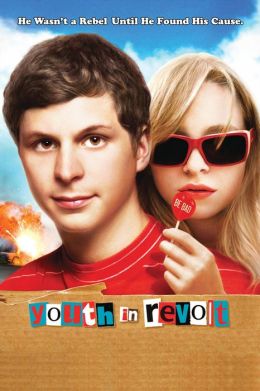 This film is an adaptation of the first book in a series by C.D. Payne.

Nick Twisp is a fourteen-year-old teen living with his divorced mom in Berkeley.

Nick is lonely until he goes camping at Restless Axles trailer park in Ukiah with his mom and her current boyfriend.

He meets Sheeni Saunders and it's almost love at first sight.

He decides to get into trouble when he goes back to Berkeley so his mom will send him to Ukiah to live with his dad.

Sheeni gets his currently laid off dad a job in Ukiah and he moves there to start work.

When Nick gets his mom mad enough to send him away, he finds out Sheeni's parents have heard about his "bad boy" routine and they sent Sheeni to a boarding school in Santa Cruz.

Trent, Sheeni's former boyfriend also attends this school.

This is very BAD news!!
There are funny moments in this film especially when Sheeni's brother Paul, played by Justin Long, introduces hallucinogenic mushrooms to Nick, Mr. Ferguson (Nick's neighbor), Lacy (George Twisp's girlfriend) and later to Sheeni's parents.

Nick also creates an alter ego, Francois Dillinger to help him win the girl of his dreams. He is funny with thin shorter length white pants, a thin mustache, aviator sunglasses and he is always smoking.

Francois is inspired by Sheeni's attraction to all things French and his persona is based on French actor Jean-Paul Belmondo.

Belmondo is one of the key actors in the French New Wave but he has switched to mainstream movies since the mid-60's.

3* (This movie is OK)
90 min, Comedy directed by Miguel Arteta with Michael Cera, Portia Doubleday, Ray Liotta, Jean Smart, Zach Galifianakis, Erik Knudsen, Adhir Kalyan, Steve Buscemi, Fred Willard, Ari Graynor, Rooney Mara.
Note:

Imdb 6.5 out of 10, 66% critic 52% audience on Rotten Tomatoes, Roger Ebert 3*.
Special Note:

Screenwriter Gustin Nash has written the script for this film. He has also worked on Charlie Bartlett and Da Mob (TV series).