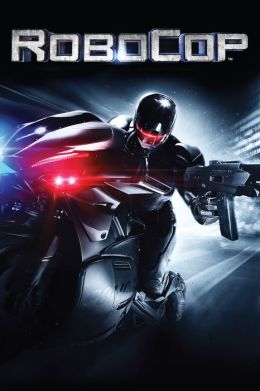 The year is 2018 in Detroit, crime and corruption are rampant and the police are having a difficult time stemming this onslaught.

OmniCorp has been making drones and robot technology
for years
to supply the military for use overseas.

They want to bring innovation to police forces but this is only to boost their bottom line.

Alex Murphy is terribly injured by a car bomb on his driveway.

This a golden opportunity for OmniCorp and they receive written permission from his wife to save Alex by making him part robot.

No one knows what this will do to Alex and even the scientists are not sure of the possibilities.

OmniCorp envisions Robocops on every police force in every city.
This film is a remake of the 1987 film of the same name.

The Imdb rating on the original was 7.5 out of 10 and 88% critic 83% audience on Rotten Tomatoes.

I think the technology and the special effects have improved in this latest version but the cop-to-cop relationships are very minimal.

More focus on these relationships made the first film a better movie.

More action and more special effects can't carry an entire movie unless that is all you want to see.

Elevating the screen power of the actors and the sleaze factor of some of them doesn't improve this movie either.

2 ½* (This movie is so-so)
117 min, Action directed by Jose Padilha with Joel Kinnaman Gary Oldman, Michael Keaton, Abbie Cornish, Jackie Earle Haley, Michael Kenneth Williams, Jennifer Ehle, Jay Baruchel, Samuel L. Jackson.
Note: Imdb 6.3 out of 10, 48% critic 52% audience on Rotten Tomatoes, Roger Ebert 1*.