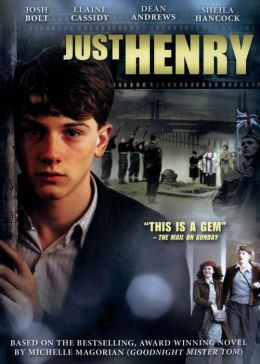 Henry Dodge is a 15 year-old and he lives with his stepdad, mom and gran.

His dad was killed in WWII and Henry has always wished he could've known him.

Gran tells him something about his dad and Henry goes to the library to look up the details in the newspaper.

He gets into a fight at school with Paul Jeffries, he believes Paul's dad was involved in Henry's dad's death.

Mrs. Beaumont, their teacher is having nothing to do with fighting and she punishes both boys.

She learns that Henry has always wanted to take photographs.

She lends him an old camera she has at home.

She teaches him how to develop the prints too.

Henry begins to find out more about his dad.
Henry and his gran want to leave their home and set out on their own.

They're tired of living with the stepdad and upset about Henry's mom going to have a baby.

Henry learns his dad was not a person to be idolized.

He finds out his stepdad and mom care about him and they are the good people.

I like the setting of in the UK and the details of this period.

3 ½* (I liked this movie)
80 min, TV Drama directed by David Moore with Josh Bolt, Charlie May-Clark, John Henshaw, Elaine Cassidy, Dean Andrews, Sheila Hancock, Perry Millward, Barbara Fynn, Pooky Quesnel, Stephen Campbell Moore.
Note:

Imdb 6.1 out of 10, Amazon 4.4* out of 5* with 17 reviews.