Bert and Mildred Pierce separate after an argument over Bert's friend Maggie Binderhof.

Their daughters Veda and Kay are upset when they see their father drive away with his suitcase.

Mildred has a lot of bills to pay and no money.

She has not choice but to get a job as a waitress.

She knows her spoiled older daughter Veda will be upset over this but they need income.

Mildred works with Bert's former real estate partner Wally Fay to purchase a property for her first restaurant.

Mildred becomes successful but her younger daughter Kay dies of pneumonia and there is ill will between Veda and Mildred.

The only way to win Veda back is to provide the luxurious life Veda craves.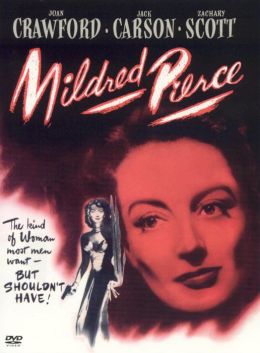 I wanted to see this older version to compare this film with the later TV mini-series version I recently watched filmed in 2011.

There are many similarities between the two films.

This version is in black and white with the ending shown in the beginning.

The ending is different from the recent film and Mrs. Binderhof is shown as a real person but is just a name and voice in the new film.

Kay dies from a different illness because pneumonia is more treatable with modern medications.

Veda is just a MEAN in both films.

She needs several good spankings and a lot less luxury than she receives.

3 ½* (I liked this movie)
111 min, Crime directed by Michael Curtiz with Joan Crawford, Jack Carson, Zachary Scott, Eve Arden, Ann Blyth, Bruce Bennett, Lee Patrick, Moroni Olsen.
Note:

Imdb 8.0 out of 10, 82% critic 90% audience on Rotten Tomatoes, 4.8* out of 5* on Amazon with 257 reviews.
Special Note: The reviews for the 2011 version were Imdb 7.7 out of 10, 50% critic 78% audience, Amazon 4* out of 5* with 936 reviews.