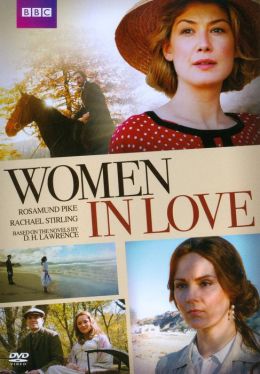 This film is an adaptation of two novels written by D.H. Lawrence, The Rainbow and Women in Love.

In the first half, Ursula Brangwen is a schoolteacher and she lives with her parents in Nottingham.

She was engaged to be married and expecting a baby but she lost the child.

She was out in a field and horses stampeded which caused her to fall.

She's sad that she won't be having the baby but she doesn't want to marry her fiancé.

Gudrun Brangwen is an artist and she lives in London.

She takes a trip to the coast with a married teacher.

The second half is after World War I.

Rupert pines for Ursula but Hermione keeps getting in the way.

Industrialist Gerald Crich sets his sights on Gudrun.
Sometimes when people want to live by their own rules, the other person has "different" rules!! The name Gudrun is taken from a heroine in Norse mythology. Another film was made based on the book Women in Love by Ken Russell in 1969. I thought this was interesting and good. 3 1/2* (I liked this movie)
181 min, BBC TV Drama directed by Miranda Bowen with Rory Kinnear, Rachael Stirling, Joseph Mawie, Olivia Grant, Rosamund Pike, Patrick Lyster, James Alexander, Grant Swanby.
Note:

Imdb 6.2 out of 10, Amazon 3* out of 5* with 27 reviews.