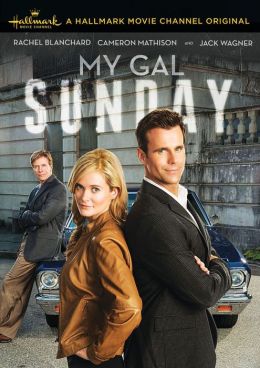 A couple celebrating their first wedding anniversary holds a luncheon for their friends and a convicted murder temporarily released from prison.

Their plan is to find out who the real murderer is so they can obtain the release of their client.

There is a scuffle and a gun but they do find out the real killer and the husband suffers a wound on his arm.

Later, they become involved in another crime when her father and his mother are kidnapped from the car they were driving.

They have a limited amount of time to work together and uncover clues to save their parents.
I could not relate or get into this movie.

Everything is so perfect and sugar coated but what did I expect?

This is a Hallmark Movie!!

It's supposed to be about crime, how can it look right out of a magazine?

2* (I didn't like this movie)
90 min, TV movie, Drama directed by Kristoffer Tabori with Rachel Blanchard, Erica Carroll, Elizabeth Higgins, Cameron Mathison, Aaron Pearl, Michael Karl Richards, Jack Wagner.
Note:

Imdb 5.0 out of 10, 2/5 with 5 audience ratings on Rotten Tomatoes, Amazon 4.8* out of 5* with 6 ratings.