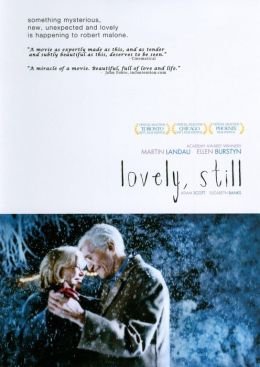 Robert is an elderly grocery store bagger who lives alone in a big house. Mary and her daughter Alex move into a house across the street.

Robert and Mary meet and they start to see each other.

It's the Christmas season, the lights and festivities help their romance along.

Robert doesn't know how he ever lived without Mary.

Mike, Robert's boss goes with Robert to find the perfect Christmas gift for Mary.
I didn't see this ending coming because of certain items in the plot that don't add up to this ending?

Their romance is lovely and you hope they can continue with Robert proposing marriage and Mary accepting.

The dream scenes are unnecessary and confusing?

3* (This movie is OK)
92 min, Drama directed by Nicholas Fackler with Martin Landau, Ellen Burstyn, Elizabeth Banks, Adam Scott.
Note:
I was able to find a multitude of reviews on
Fandango.
Imdb 7.3 out of 10, 71% critic 75% audience on Rotten Tomatoes, New York Observer 75/100, Arizona Republic 70/100, New York Magazine 70/100, Village Voice 70/100, Los Angeles Times 70/100, New York Times 70/100, New York Post 63/100, Boxoffice Magazine 60/100, The Hollywood Reporter 30/100, New York Daily News 20/100.