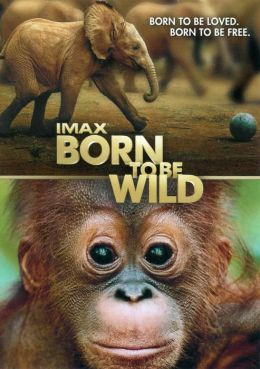 This movie was filmed in IMAX 3D, narrated by Morgan Freeman and it's about orphaned baby orangutans and baby elephants.

In the rainforests of Borneo primatologist Dr. Birute Galdikas works with baby orangutans that have lost their mothers.

They are too young to live in their natural habitat of the rainforest but they live here in this sanctuary until they are old enough to return to the wild.

The baby elephants have also lost their mothers and they live with Dame Daphne Sheldrick in her sanctuary until they are also old enough to return to the wild.
The babies are very interesting.

The baby orangutans need to be taught how to hang from the vines in the forest and how to hunt for the fruit they need for food.

The baby elephants have been traumatized by the loss of their mothers and they don't sleep alone but a caretaker sleeps with them.

They remember the bad events of their lives and they can't get to sleep.

They need to be covered with blankets and have sunscreen for their delicate ears because they are lacking the shade provided by their large mothers.

Both of these animal groups are very fortunate to have these sanctuaries to care from them until they can get older.

It is very unfortunate that their mothers have been killed.

4* (I really liked this movie)
40 min, Doc directed by David Lickley with Birute Galdikas, Daphne Sheldrick, Morgan Freeman.
Note:

Imdb 7.5 out of 10, 98% critic 84% audience, Amazon 4* out of 5* with 76 reviews.