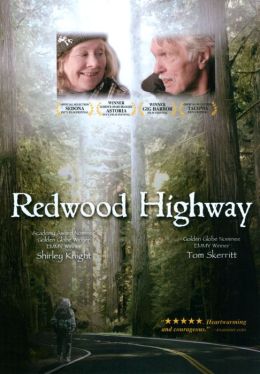 Marie is living in a retirement community in Southern Oregon.

She doesn't see her family very much and she's not happy about where she lives.

She receives an invitation to her granddaughter's wedding but she tells her son that she's not going.

She gets a phone message from her granddaughter saying that she didn't expect Marie to come and she was sorry she sent the invitation.

Marie has a change of heart but she decides to walk 80 miles to the coast of Oregon for the wedding.

She also wants to revisit the ocean for the first time in 45 years.
Marie thinks she's physically tough but the miles on the road take a toll on her feet, legs and body.

She's been warned about big cats and a friendly stranger gives her a spray for defense in case she sees one.

He also treats her blistered feet.

A sheriff she meets warns her that the highway is not as safe as it used to be because the trucks travel fast and the road is not wide.

She encounters bad weather but the people she meets are usually friendly.

I walk a lot but I would not set out on a journey of 80 miles without a lot of training before setting out and not at Marie's age.

She has her family worried and looking for her plus law enforcement are searching.

3 ½* (I liked this movie)
90 min, Drama directed by Gary Lundgren with Shirley Knight, Tom Skerritt, James LeGros, Zena Grey, Michelle Lombardo, Sam Daly.
Note:

Imdb 6.3 of 10, 80% critic 52% audience on Rotten Tomatoes, Netflix 3 ½*.