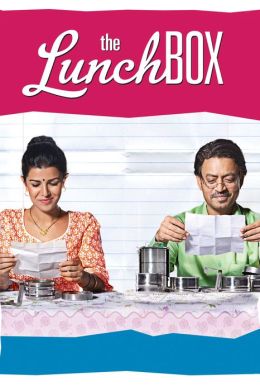 This film is set in Mumbai, India.

There is a lunchbox delivery service called Dabbawalas.

Ila carefully prepares a traditional lunch of Indian food for her husband.

Usually, he doesn't finish his meal and he doesn't have anything to say about the food.

One day, her lunchbox is given to the wrong man by the delivery service.

Typically the delivery service is known for it's accuracy and mistakes are "never" made! Saajan Fernandes receives the lunchbox and he is so amazed by the flavors of the food that he compliments the food at the delivery service office.

The next day he again receives the wrong lunchbox and he includes a note in the empty box.

Ila is hesitant to write back but she summons her courage and they begin writing to each other each day.

Ila is unsure about her marriage because her husband seems so distant.

Saajan is a lonely widower with 35 years of service to his company and he is retiring at the end of the month.
This film ends differently than I expected.

This is India and not the United States which makes a big difference.

I thought this was good, interesting and there are many cultural differences.

It would be nice to be able to cook this kind of food but it's not easy and requires many ingredients plus specialty items.

3 ½* (I liked this movie)
104 min, Drama directed by Ritesh Batra with Irrfan Khan, Nimrat Kaur, Nawazuddin Siddiqui, Lillete Dubey, Nakul Vaid, Bharati Achrekar.
Note:

Imdb 7.9 out of 10, 96% critic 87% audience on Rotten Tomatoes, Metascore 76/100 with 29 critic reviews, user score 7.9/10 with 29 ratings, Tampa Bay Times 100/100, Chicago Sun-Times 88/100, St. Louis Post-Dispatch 75/100, Entertainment Weekly 75/100.