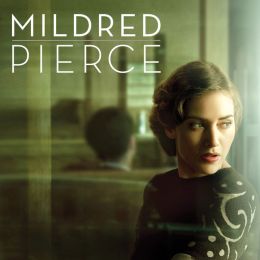 This series is based on a 1941 novel by James M. Cain.

The setting is Glendale California in 1931.

Mildred Pierce is married with two young daughters and she as a talent for baking.

She sells the cakes and pies she makes in her kitchen. Bert, her husband, is cheating on her and she asks him to move out.

Unfortunately, he takes their car.

Her daughter Veda is 11 years old and her daughter Ray is 7 years old.

Mildred needs to get a job but she doesn't have experience or job skills. This is the depression which was from 1929 until the late 1930's or middle 1940's.

She checks out a job as a waitress but doesn't see herself wearing a uniform and doing this kind of work for tips.

A hiring agency sends her out for a job as a housekeeper but she doesn't care for the idea of the separation of the classes with her being the lower class.

Mildred has her pride but that will not fill their stomachs!! Finally, she does take a job as a waitress, it's hard in the beginning but she begins to learn the ropes.
The acting is very good in this series and the themes are very intense. Mildred really pulls herself up by her bootstraps and she meets people who will help her along the way. She doesn't have good choices in the men she sees and this is a drawback. She has a blind devotion to her oldest daughter and that is also a hindrance. I liked the cars, furnishings and clothing shown from this time period. 4* (I really liked this movie)
336 min, 5 episode TV Mini-Series from HBO with Kate Winslet, Guy Pearce, Evan Rachel Wood, Brian F. O'Byrne, Melissa Leo, James Le Gros, Murphy Guyer, Mare Winningham, Marin Ireland, Diane Dagan, Miriam Shor, Christopher Koron.
Note:

Imdb 7.7 out of 10, 50% critic 78% audience on Rotten Tomatoes, Neflix 3 ½*.
Special Note:

Mildred Pierce needed to listen to the Italian singing instructor, Carlo Treviso, when he told her that Veda is a snake and why would you want a snake to live with you?