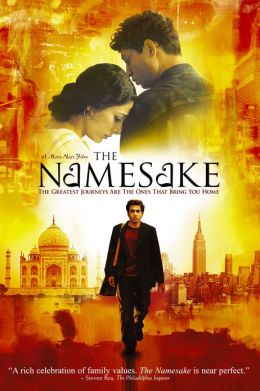 This film is based on a novel by Jhumpa Lahiri and covers 25-30 years.

Ashoke is a Calcutta born and Bengali speaking.

He traveled by train to visit his grandfather in Jamshedpur.

Ashoke is reading the book Overcoat authored by Nicholai Gogol while talking with a fellow traveler. Ghosh advises Ashoke to travel.

The train has a terrible accident with many people injured or dead.

Soon after this experience, Ashoke moves to America and returns to India in 1977 to marry Ashima.

They become parents of a son and they name him Gogol after Ashoke's favorite author.

After a few years, they have a daughter and name her Sonia.

Their son is conflicted with his heritage from India, his unusual name and his life in America.
I thought this story seemed familiar but I couldn't remember if I had seen the movie or read the book.

I did some checking and I've seen this movie before.

This is good and it is interesting with the comparison of the lives of the parents and then the lives of their children.

The parents retain much of their culture of India but the children move further toward American culture.

Ashima wonders if she gave birth to strangers?

4* (I really liked this movie)
122 min, Drama directed by Mira Nair with Kai Penn, Irrfan Khan, Tabu, Jacinda Barrett, Zuleikha Robinson, Brooke Smith, Sahira Nair, Jagannath Guha, Ruma Guha Thakurta, Sandip Deb, Sukanya.
Note:

Imdb 7.6 out of 10, 86% critic 79% audience on Rotten Tomatoes, Roger Ebert 3 ½*.
Special Note:

Mira Nair was born in India, received her education at Harvard and married a man from Uganda.

Sahira Nair has the role of the daughter Sonia.

She is the niece of the director.

Irrfan Khan was also in The Life of Pi.