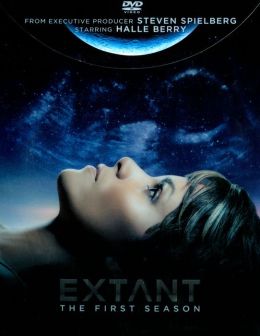 Molly Woods left behind her husband John and their son Ethan to go into space for a solo journey of 13 months.

Ethan is a prototype android called a humanich and he was created in John's lab.

When she returns home, she has a difficult time reconnecting with her work and her family.

Surprisingly, she learns from her physical that she is pregnant but she was alone on her journey?

Molly wants answers and she tracks down another astronaut to ask about his solo mission.

Molly's boss tries to quarantine her after he learns she is pregnant.

Molly, John and Ethan retreat to a remote island to stay with her father.

When they return from the island, John begins to doubt Molly's mental state and the pregnancy.

Molly is taken to a hospital and her baby is removed from her body and placed in an artificial womb.

Molly is determined to find her baby when she learns he is alive.
There is a lot going on in this series with many plots tossed into the air at the same time.

They go back and forth in the episodes.

Most of this is hard to believe but there was Sigourney Weaver as Ripley in Alien!!

This keeps you interested and waiting for the next episode.

3 ½* (I liked this series)
42 min for each episode, 13 episode TV series, Sci-Fi directed by Mickey Fisher with Halle Berry, Goran Visnjic, Pierce Gagnon, Hiroyuki Sanada, Grace Gummer, Camryn Manheim, Michael O'Neill, Maury Sterling, Sergio Harford.
Note:

Imdb 7.0 out of 10, 83% critic 65% audience on Rotten Tomatoes, Metacritic 68%/100 critic 6.7 with 108 ratings.
Special Note:

Episode Titles: Re-Entry, Extinct, Wish You Were Here, Shelter, What on Earth is Wrong, Nightmares, More in Heaven and Earth, Incursion, Care and Feeding, A Pack of Cards, A New World, Before the Blood, Ascension.