Aura (Lena Dunham) is a recent Ohio college graduate, she planned to live with her boyfriend at the end of classes but they broke up and he returned to Colorado.

Unfortunately, she is living with her mother and sister in Tribeca until she can figure things out.

Her mother earns a lot of money as famous artist who photographs tiny furniture.

Her sister Nadine is taller, thinner, younger and her feet and legs appear in the furniture photos.

Aura reunites with her long time friend Charlotte and finds out a restaurant nearby is looking for a hostess.

It seems so convenient but after the shock of her first small paycheck, she decides she is a college graduate, this job is boring and she deserves more.

This all puts her would-be roommate who is arriving the next day in the lurch?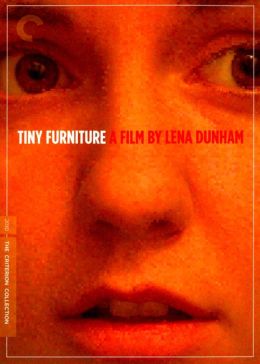 This is funny and you see how the series Girls flows from this movie. Lena is fortunate that she is comfortable in her own skin and she's doesn't care if she has no makeup and she is not a size 2 or 4!

She is also extremely talented on camera and behind the scenes as director and writer.

She has a new book published 9/30/14, Not That Kind of Girl: A Young Woman Tells You What She's "Learned."

I can imagine she has learned a lot since her college graduation and she seems to be able to do it all!!

3 ½* (I liked this movie)
98 min, Comedy directed by Lena Dunham with Laurie Simmons, Lena and Grace Dunham, Rachel Howe, Merritt Wever, Amy Seimetz, Alex Karpovsky, Jemima Kirke, Garland Hunter, Isen Ritchie, Sarah Sophie Flicker.
Note:

Imdb 6.3 out of 10, 78% critic 55% audience on Rotten Tomatoes, Roger Ebert 3*.
Special Note:

On the TV series, Girls, the same actors from Tiny Furniture are Jemima Kirke, Alex Karpovsky and Laurie Simmons.

Lena's real mother and sister play these roles.